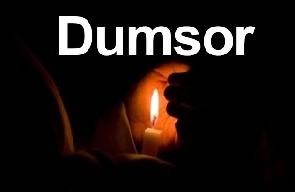 The Ghana Grid Company (GRIDCo) has attributed the power outages that some Ghanaians experienced earlier this week to a gas supply challenge from Nigeria.
The Corporate Communications Manager of GRIDCo, Dzifa Bampoh, in an interview with Citi News, explained that the gas supply challenges led to the inability of the generating plants to operate well.

She stated that her outfit has put in some effort to purchase more fuel oils so that the plants that cannot operate

"We had a gas supply challenge from Nigeria. That has been the fundamental reason, and it has led to a multiplier effect, meaning our generating plants which use gas cannot operate fully," she said.
"On Monday and Wednesday, we had challenges getting a full-capacity of power supply and that is why there has been intermittent power supply. We apologise to Ghanaians for it, because ultimately, if there's going to be any shortage even if it's for a day, we are obliged to inform Ghanaians. That is what we are doing at this time. Efforts are being made to purchase more fuel oils so that the plants that cannot operate because there's no gas can operate with fuel oils," the Corporate Communications Manager of GRIDCo noted.

ESA/FNOQ