General News Mon, 30 Jul 2018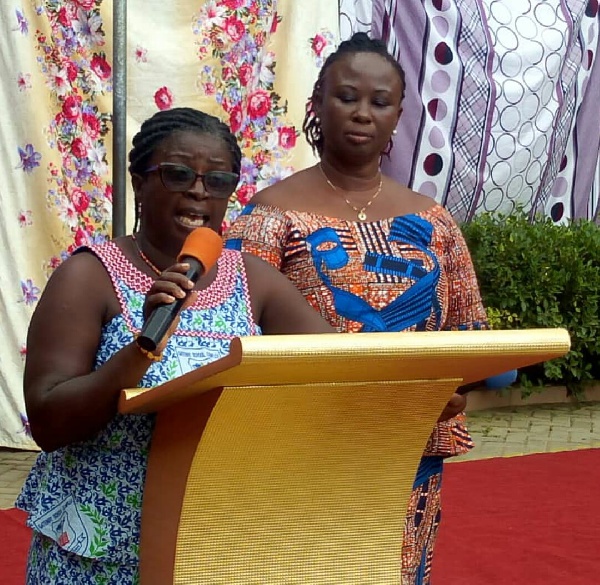 The Pre-School Co-ordinator of Awutu Senya East Education Service, Mrs Sylvia Ofori-Nyarko has charged parents and guardians to always endeavor to reflect good moral uprightness acceptable by the society in order to help create conducive environment for children at home.
According to her, the upbringing and development of children depends largely on parents and guardians hence the need for them to always strive to display qualities of a role model backed by uprightness towards their upkeep.

Mrs Sylvia Ofori-Nyarko made this observation known delivering a speech on the theme: "Elevating the confidence of our Future Leaders through Sound Academic and Good Moral Upbringing" at the 9th graduation ceremony of pre-school children of the Gateway School Complex, a private institution.

The colourful graduation ceremony witnessed about fifty-seven (57) kids who graduated successfully from kindergarten 2 to primary 1 basic school.

Speaking at the ceremony, Principal of the School Mrs. Kafui Lily Amenyah appealed to parents to effectively collaborate with teachers to inculcate knowledge into the children and shape their dreams.

While lamenting the lackadaisical and uncaring attitude most parents have demonstrated towards the upkeep of their wards at home in recent times which in her view is an affront to their proper development and upbringing, she questioned their actual role as parents.

"Gone are the days when parents told their children stories to teach them good morals. For example the popular 'Ananse' stories about greed. Today, do parents even spend time with their children at home?
"During the week, it is work, work from dawn to dusk, ....weekends, it is either funerals, weddings, societal meetings or functions. What then is the role of parents in shaping the dreams of these little ones?, she asked.

Mrs. Amenyah therefore concluded by saying " teachers cannot do this work alone, we need the collaboration of parents".

Commenting on the theme for the day: "Elevating the confidence of our future leaders through good upbringing", the compassionate Principal concluded the only parents and teachers can elevate the confidence of children is through sound academic and good moral upbringing.

In his closing remark as chairman of the occasion, Acting Head of the Primary Division of Morgan International School, Mr. Moses Amoamah Antwi stressed the need for parents and guardians to always appreciate, encourage and support their wards at both home and school to ensure their moral upbringing in a bid to secure better future for them.

He also advised teachers and the school authorities not to relent on their efforts in providing a conducive environment that will enhance teaching and learning of children at all times.

While commending the efforts of government for the implementation of the free senior high schools (SHS), he also appealed to gov't to help consider the enrollment of private senior high schools unto the service to promote education and foster private public partnership.
He commended the graduands for their successful completion, teachers and the school authorities for their support and care towards children in school.

Chief Executive Officer (CEO) of the Gateway School Complex, Mrs. Mary Noel Fiah sharing her main concern in an interview bemoaned lack of care and attention on part of parents towards the kids which she claimed is largely affecting their progress in life.

She recounted a bizarre incident in the history of the school where one of the pupil nearly commit suicide due to neglect of parents but for her timely intervention, the life of the child was saved.

"I remember sometime ago when I noticed a strange behavior of a 12-year-girl in primary six(6) so i quickly invited her to my office. Not knowing she had already confided in her friend that she's about to taking her life. I interviewed her and alas, you can see her parents don't give a hoot about her!".

Mrs. Fiah cited another instance where a parent approached her with a request if there's a boarding facility at her end that could cater for the admission of her ward, an infant and a class one pupil.

She therefore vehemently condemned the unkind attitudes of parents and guardians, and quickly admonished them to always ensure they spend 'quality time' at home with their children at all time to enhance their development and well-being while preparing them towards brighter future.
The dazzling ceremony was great sight to behold as kids displayed their talents in various performances ranging from cultural dances, modelling, poetry recital/rhymes and choreography.

Some of these kids even played a role of a Master of Communication (MC) introducing speakers on stage and making striking comments.

At the end of the day, some deserving student were presented with an award as recognition for excelling in school academic work among others.

In attendance were some crème de la creme of the society, officials from the Ghana Education Service & Ministry of Education, Politicians, parents and guardians as well as members of the general public.

Gateway School Complex was established in September 2006 as a Private Limited Liability Educational Institute by Mr. and Mrs. Fiah as Pre-school, Primary and JHS 1 to selflessly groom students to achieve academic and moral excellence, gain self-confidence and have a firm grasp of Christian ideals and principles.

However, in 2009, it has evolved to include the JHS 2 & 3 with the first batch of JHS 3 sitting for the B.E.C.E. exams in the same year. The school population currently stands at 852
Since its establishment 10 years ago, Gateway School Complex school still remains one of the best high standard schools in the Awutu Senya East District and Central Region as a whole. This is evident in the school receiving 8 awards during its 10 years of operation.

With a mission to become a school of choice, the pre-eminent school in the Central Region and be counted among the top 5 best schools in the country, Gateway School Complex is poised to deliver on its mandate to turn around the fortunes of many Ghanaian children with sound academic education and good moral upbringing as working tools.
Source: Joseph Kobla Wemakor