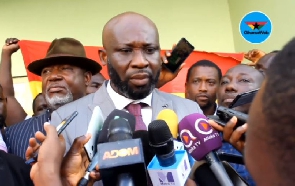 Former Vice-President of the Ghana Football Association George Afriyie has ordered his lawyers to file an appeal at the Court of Arbitration for Sports after he was disqualified by the Elections Committee from contesting in the forthcoming GFA Elections.
A ruling by the Appeals Committee of the Ghana Football association on September 18, 2023 upheld the verdict by the Elections Committee which posited that George Afriyie's nomination was signed by an official who did not meet the criteria for endorsing candidates in the GFA elections.

According to a report by JoySports Muftawu Nabila, there could be an injunction from the Accra High Court against the process after George Afriyie had earlier filed an appeal against the decision of the Ghana Football Association Elections Committee to disqualify him.

However, close to 10 days after filing his appeal, the Appeals Committee of the Ghana Football Association on Tuesday, September 18, announced its decision to dismiss his appeal.

The Committee said he used an unqualified person – Jeffrey Asare – to endorse his nomination forms and it was later found out that Asare wasn't a Director at Victory Club Warriors FC as he had claimed on the forms.
The Appeals Committee said only five endorsements were allowed, while George Afriyie had six to endorse his form.

George Afriyie's disqualification means incumbent GFA president Kurt Okraku will run unopposed in the upcoming presidential elections which is slated for Wednesday, September 27 at the Rahdach Hotel in Tamale.

LSN/KPE