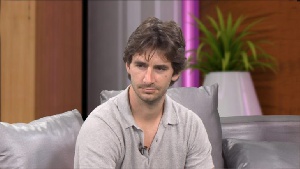 The Ghana FA has accused Spaniard Gerard Nus of acting in bad faith with respect to the country's failure to promptly pay him for some services rendered as a member of the senior national team, the Black Stars' backroom.
Nus' situation gained worldwide media attention after he decided to stage a sit-in protest in Accra demanding all monies owed him since he joined Avram Grant's backroom in December 2014.

The Rayo Vallecano assistant technical director, in an appearance on the Cheers show on GHOne TV, revealed that not only was he owed from the 2017 Africa Cup of Nations but some of the monies go back as far as 2015.

"I have not been paid for some qualifiers that I've been involved – the ones that I received flight tickets to be part of the team and those ones are two games, Mauritius and Rwanda that I have not been paid. We're talking about 2015," he told Nana Aba Anamoah on Cheers Saturday.

But the Ghana FA feels Nus has not been fair "with the character he has shown" in handling the issue.

The FA's director of Communications Ibrahim Sannie Daara explains to Cheers: "At the end of the Afcon we told the technical team of the financial challenges and all of them agreed to go home but Gerard insisted that he wants to stay to collect his money.
"Even the person who brought him – Avram Grant had agreed to leave knowing that out of the goodwill and work we've had with them for two years… It's not just about Gerard, it's about his boss Avram Grant, all the Ghanaian backroom staff, all the foreign backroom staff including Mariana [Kovacevic], Jamie Lawrence all of them agreed to go…

"We have worked with him on the basis of trust for the past two years and you said that just because somebody who had no opportunity in getting you the opportunity to work with Ghana and just because we are facing financial difficulties, you decide to stage a sit-in protest just to embarrass us, it is not fair.

"And if he wants a career in coaching in Africa and anywhere else in the world, people would be looking out for some of these things. I'm not saying that when somebody is due some amount of money, the person should not be paid but this is a peculiar case of a difficulty. We have explained it to you and it is not that we have a bad record with you

"With this sort of character, he is not the person you can even trust to work with…," Daara stated.

The Ghana government in the past week paid Gerard Nus his entitlement for the 2017 Africa Cup of Nations but the Spaniard insists the amount is not complete. He further revealed the Ghana FA has promised to sort him out Monday in the coming week.
"I've been told that on Monday I would get the money then I could fly back. I miss my family," he said.

No contract signed

Gerard Nus also admitted that he has no written agreement with the Ghana FA.

"It was a verbal agreement because myself and Jamie Lawrence came with Avram Grant and we talked so many times about a proper contract but we've never seen a full contract paper like we are used to. I mean I've been used to do…"