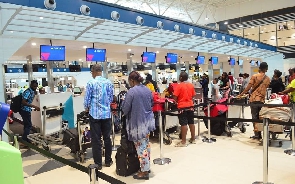 The Ghana Airport Company Limited (GACL) has reportedly paid GH¢10 million out of the GH¢28 million debts it owes the Electricity Company of Ghana (ECG) to avoid be disconnected from the national power supply.
According to a report by JoyNews, the GH¢10 million was paid on Monday, March 20, 2023, the day the ECG began it nationwide exercise to disconnect households and entities which have refused to pay arrears of power supply they own, from the national grid.

The report indicated that the Airport Company promised to pay the remaining balance it owes the ECG within two weeks.

Meanwhile, a visit by the Revenue Mobilization Taskforce of the Electricity Company of Ghana to the Parliament House in Accra has led to the legislative house paying off GH¢8 million of its GH¢13 million debt.

The settlement has therefore saved the house from being disconnected from the national electric grid.

According to a report by citinewsroom.com, the partial payment became necessary upon the visit by the ECG team, intending to take the edifice off the national power grid.
ECG is determined to recover over GH¢5 billion in debt from private and state institutions in the country.

These debts have piled up since August 2022 due to non-payments.

The Revenue Mobilization Taskforce started its recent exercise on Monday, March 20, 2023.

This follows the ECG's closure of its main offices, except for customer support departments, to embark on the month-long exercise.

IB/OGB