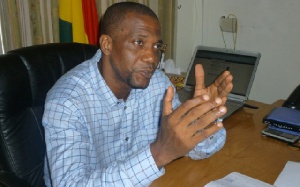 The independent presidential candidate in the 2016 presidential and parliamentary elections, Jacob Osei Yeboah (JOY) has described President Nana Akufo-Addo's 'Ghana Beyond Aid' agenda as a mere rhetoric.
In his view, the way the current president and his team are managing the country will make the agenda difficult to achieve. The President Nana Akufo-Addo some few weeks ago announced the creation of a 10-member committee to work out a charter in the next six months for 'Ghana Beyond Aid' agenda.

The committee, according to the President would be chaired by Senior Minister Yaw Osafo Maafo and would comprise of three members each from ministries of finance and employment and labour relations, Organized Labour and the Private Enterprise Federation.

JOY said, the agenda is good but that mantra by itself is a national security threat. It is not different from Nkrumah's 'the African man is capable of managing his own affairs which saw Africans overthrow him.''

The politician told Nyankonton Mu Nsem on Rainbow Radio 87.5Fm that, the mantra may have dire consequences for Ghana and the countries that have supported us over the years will frustrate the process.
''That is why everything is stalling in Ghana. Ghana beyond aid mantra will encounter serious frustrations from our donors. They will frustrate the process,'' he insisted.

He added, what you will do is what will determine the success of the beyond aid agenda. He made reference to small-scale mining and illegal mining and the poor way government is employing is solving it.

Ghana will generate over $ 12 billion from the sector but look at how they are handling it. ''If you want to embark on a beyond aid agenda, it is not a rhetoric but strong policies,'' he concluded.