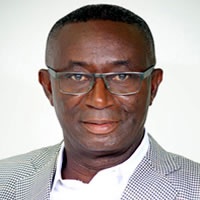 Mr Andy Appiah-Kubi, the Deputy Minister for Railways Development, has said construction of the Ghana-Burkina Faso railway line and other railway networks within the country was progressing steadily.
He said feasibility studies had already been commissioned for the 595km Kumasi-Paga line being undertaken by Mesers Vision Consult (Ghana), Gauff Ingeneres (Germany), and ILF Consult (Germany),adding that studies on the Tamale-Paga line was completed.

The Deputy Minister said this at the second rail dialogue dubbed " Developing a Greenfield Railway project, the example of Ghana-Burkina Interconnectivity Project: Lessons, Challenges and the Way Forward.

The Minister said Transaction Advisors made up of TEAM engineering of Italy and Vision Consult were currently studying the section of the rail line from Mpakadan to Tamale, through Yendi and Paga to Ouagadougou.

He said a joint committee of experts from the two countries was established in Ouagadougou on January 16, 2018 through a Memorandum of Understanding to facilitate the implementation of the project.

Mr Kubi said the phase one of the Transaction Advisor's Report was reviewed and approved by the joint Committee on April 15, 2019 in Bolgatanga, Ghana.
The joint committee also validated a pre-feasibility report, which included the preliminary alignment of the project, on October 9, 2019 in Manga, Burkina Faso.

The preliminary alignment phase is completed whilst phase two the procurement process is also in progress.

The Deputy Minister revealed that the two countries had signed a treaty on the December 14, 2018 relating to the joint implementation of the project.

The Treaty, which established the guiding principles and financing model for the project, is before Parliament for Ratification.

He said the project provided opportunities across regions and Nations adding that the collaboration had gone on a long way to strengthen the bilateral relations between the two countries.
Mr Appiah-Kubi noted that the two countries were working together to address any pitfalls that might arise during the project.

He called on other West African countries to join Ghana and Burkina Faso in building a strong rail network around the continent.

Some of the participants expressed satisfaction with the spate of the project, hoping to see its completion to ease transportation in the country and appealed to government to settle outstanding compensations to avoid the delay of the project.