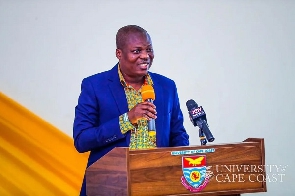 The Dean of the University of Cape Coast Business School, Professor John Gatsi, has said that the National Identification Card has not been of any economic importance to Ghanaians yet.
According to him, instead of the government ensuring that the Card is used to strengthen businesses in the country, it is being used dominantly for elections.

"We have devised various means to integrate the informal sector into the tax net but although some of them who are identified under trade associations are paying taxes, the majority of them still do not pay taxes.

"We were trying to formalise by introducing the TIN and National identification card and that is what other countries have used to integrate the informal sector into the tax net but it seems to me that instead of using the Ghana card to integrate into platforms that will identify economic activities by various group of people, we are rather focused on using the Ghana card on identification and verifying citizens and for the purposes of elections," he was quoted by GraphicBusiness.

The Professor charged the government to prioritize empowering businesses to grow instead of focusing solely on collecting taxes from them.

"It should not be the case that businesses will be set up and government is not interested in how they are nurtured.
"Government must nurture them by creating the enabling environment by ensuring that the interest rate regime is accommodating, by ensuring that inflation is well anchored and exchange rate regime is also stable to allow effective productivity to take place," he stated.

SSD/NOQ

Ghana's leading digital news platform, GhanaWeb, in conjunction with the Korle-Bu Teaching Hospital, is embarking on an aggressive campaign which is geared towards ensuring that parliament passes comprehensive legislation to guide organ harvesting, organ donation, and organ transplantation in the country.

Watch the latest edition of BizTech below: