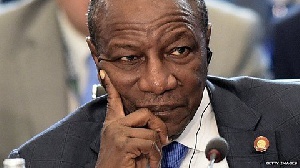 Guinean leader Alpha Conde, has made a day's visit to Ghana, to confer with President Nana Addo Dankwa Akufo-Addo, on the political situation in Togo.
Their discussions were held behind closed doors but believed to have centred on speeding up the negotiation processes to end the bitter political crisis and bring enduring peace to the country.

Mr. Conde, is the head of the ECOWAS Monitoring Committee, tasked by the regional body during its last meeting held in Lome, to support the efforts of President Akufo-Addo at helping the government and the opposition political parties to find a common ground.

The pair had been working hard to get the Togolese Government, the opposition and all other political stakeholders to implement constitutional reforms "while respecting legal deadlines, democratic standards and principles and the rule of law".

Togo has been mired in political standoff as the opposition pushes for term limit for President.
Mr. Conde has since left for Guinea.

Earlier, on arrival at the Kotoka International Airport (KIA), in Accra, scores of Guinean nationals gathered at the airport to welcome their leader.

On hand, to receive him at the Jubilee Lounge of the KIA was Vice President Dr Mahamudu Bawumia, where they exchanged pleasantries.