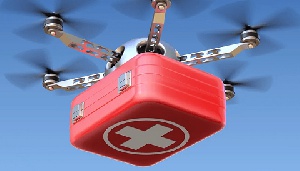 The Director General of the Ghana Health Service (GHS), Dr. Anthony Nsiah Asare has given full details of the drone health service delivery system the country is adopting to improve on healthcare delivery.
Ghana's Ministry of Health is launching the largest and most advanced medical drone delivery network in the world.

Given the fact that developing countries such as Ghana face significant health deficits, issues of primary health care delivery require innovative means and practices. Health deficits that are totally unacceptable include the fact that about 30% of women die in labour due to excessive bleeding. Issue of immediate intervention after a snake- bite is also deplorable.

This would have not been the case if Ghana had installed advanced technology to supply blood pints and other medical products to remote areas, where the need is more.

Read the text of FULL DETAILS of the deal

ACTION

.Health is not politics. We should have a little sense of dignity when discussing health related matters.

.We value the health of Ghanaians and will put in place all necessary measures to ensure good health care.

.Indeed, the Akufo-Addo government has responded by vying for a health care project that would deliver medical supplies through drone technology.
.The drone delivery network will give Ghana the most advanced health care supply chain on the planet.

.DRONES are aircrafts that can be navigated without a human pilot on board the aerial vehicle. Drones can be navigated via control from the ground, using a GPS tracking system.

.The drones will operate 24 hrs a day from 4 distribution centers across the country. The first distribution center will be located near Suhum. The sites for the remaining 3 will be finalized by GHS subsequently, but are expected to cover much of the country.

.The entire project took about 6 months to implement. A committee was set up, comprising of representatives from the Ministry of Health, Ghana Health Service, National Ambulance Service, Civil Aviation, National Security etc.

.The above stakeholders sent delegations to inquire about how Rwanda had implemented the first Zipline program; it was a very successful venture. To the extent that the Ghana Civil Aviation has approved the project and all security factors have been considered as well.

.The Ghana Health Service has asked Zipline to stock 148 products that range from blood, snake venoms, essential medicines such as tuberculosis & HIV medications etc. When fully implemented, 14 to 16 million people will be covered.

.In relation to why the project was sole-sourced, zipline is the only company in the world that is currently in the medical drone supply business, as such sole-sourcing was applied, which out procurement laws permit. In fact, the National Security has also done their checks, and there is no company operationalizing drone medical supply apart from Zipline.

.Ghana is not procuring drones to supply medical supplies to health centres. Ghana is only paying for the drone services for delivering the supplies. The ministry of Health (MOH) bears no risk of installation, operation or maintenance of facilities. MOH only pays when Zipline succeeds in setting up distribution centers and meets the performance specifications agreed as in the Service Agreement.
.The contract is a performance driven contract, which means that the zipline company will be paid based on the daily supplies per distribution centre. Hence payment is done based on performance specifications. It has nothing to do with the suggestions of some MP's.

.The zipline service works through 4 simple steps: placing an order to the recipient zipline pharmacist, pharmacist prepares the product for delivery, product in placed on a drone, the health facility receives the supplies in less than an hour.



QUESTIONS AND ANSWERS ON THE DRONE

It goes without saying that in an emergency, even under normal conditions, it is generally faster to go from one point to the other via air than land, via a drone than a motorbike, and via an aeroplane than a steamship (steamer).

WHAT IS THE STRUTUCRE OF THE MOH'S CONTRACT WITH ZIPLINE?

The contract is a Service Agreement. Zipline is required to meet detailed performance requirements, such as range, payload, and number of flights per day.

MoH will not own the facilities or equipment, so it bearsno risk for construction cost overruns, maintenance costs, or technology obsolescence. MoH will only pay if Zipline meets its service commitments.
WHAT DOES THE CONTRACT OBLIGATE SIPLINE TO DO?

Zipline must build 4 distribution centers at MoH-specified locations across Ghana.

Each distribution center will include at least 20 drones, launch and recovery equipment, state-of-the-art medical refrigeration equipment, computerized order management systems. Each will be staffed by up to 50 Ghanaian employees.

Zipline must operate drone flights from the distribution centers on a 24/7 basis to deliver medical products on request to health facilities within an 80 km service radius.

Zipline will guarantee a capacity of 150 flights per DC day. This means that the 4 distribution centers will be able to make up to 600 emergency deliveries per day total (and the flights can usually carry more than 1 product).

WHAT IS THE COST OF THE SERVICE?

The cost for the service in Ghana at full operations is$88,000 per distribution center per month. This equates to $352,000 per month for all 4 distribution centers, or $4,224,000 per year for all 4 distribution centers.

This price is discounted during Zipline's ramp-up, to make sure that Ghana only pays for the service as and when Zipline makes it available. The phases are shown on page 33, and an illustration of how the phases work is shown on page 39 of the service agreement.
There is also an $11,000 per month on time payment discount, which will apply as long as the service fee was timely paid in the previous month.

Considering the on-time payment discount and the discounted ramp up, the estimated total 4-year cost of the contract is approximately $12,500,000.

Ghana will offset this cost by obtaining corporate social responsibility contributions from private sector contributors.

WHY WAS THE PROJECT SOLE-SOURCED?

Under Section 40(1) of Act 663, "[a] procurement entity may engage in single-source procurement with the approval of the Board . . . (a) where goods, works or service are available from a particular supplier." Zipline is the only supplier of this innovative technology, and the PPA therefore issued approval of single source.

Moreover, Section 40(1) of Act 663 also provides that single-source procurement is appropriate "where there is an urgent need for the goods, works or services." Is it not urgent to save the lives of mothers who are dying unnecessarily for postpartum haemorrhage even as we debate this?