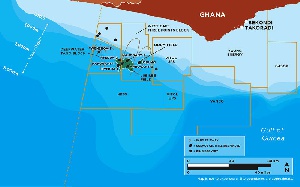 Sat, 13 Mar 2010 Source: Reuters
Ghana will set up a commission by the end of the month to begin talks with Ivory Coast over their maritime border, negotiations that could be complicated by Ghana's big offshore oil finds.
"I expect the 13-member commission to be inaugurated by early next week and for preparatory work to begin in April," a Ghanaian source close to the issue said on Friday on condition of anonymity.

Ivory Coast has for years sought to clarify its offshore border with Ghana, but recently renewed its efforts by petitioning the United Nations after Ghana discovered additional oil reserves off its coast.

Ivory Coast's energy minister, Augustin Komoe Kouadio, told Reuters earlier this week he did not expect the negotiations to become a dispute over oil rights.
"I affirm there will not be a fight over oil between Ivory Coast and Ghana," he said.

Ghana, the world's second-biggest producer of cocoa behind Ivory Coast, is set to become a commercial oil producer by the end of this year as production from the giant offshore Jubilee oilfield comes on line.

Late in February, Russian oil firm LukOil announced a significant oil find offshore Ghana in a discovery that will add to the West African country's already sizeable reserves.
Source: Reuters