Tue, 17 Jul 2018 Source: Eye on Port
Protecting Ghana's waters and maritime space has become a lot more necessary in recent times more than ever.
This is because Ghana's waters are gradually witnessing almost all the forms of crimes undertaken on the sea and experiencing the disasters that are reported at sea.

Few weeks ago, incidents of piracy were recorded in Ghanaian waters and subsequently an oil vessel divided into two at the anchorage of Tema Port, leaving some oil spillages at its waters.

Again, recently, the Ghana Ports Security has arrested a number of people engaging in illegal ship-to-ship transfer of oil in the Ghanaian waters.

To effectively tackle and prevent such crises in Ghana's maritime space, the Ghana Maritime Authority in collaboration with Inter-regional Coordination Centre of the Maritime Safety and Security in the Gulf of Guinea, and the European Union's Gulf of Guinea Inter-regional Network has organized a Crisis Response Training exercise at The Tema Naval Base and the Port of Tema.

The four day Crisis Response Training exercise was organized to equip African Maritime Administrations with techniques to curb piracy and armed robbery incidence in Ghana's maritime domain.

Personnel were drawn from institutions which include the Port Security, Ghana Navy, Marine Police, National Security, Ghana Immigration Service, Customs division of GRA, NADMO among other security agencies who play key roles in securing Ghana's maritime waters.
Security experts lectured the participants to equip them with techniques that will enable them fight crime at sea.

A practical exercise was also carried out in turns, with some personnel going on-board a Helicopter while others were on-board a Speed boat and a Navy Vessel at the Tema Port to foster collaborative efforts between the security players.

"So we activated and used all those who matter when it comes to emergencies at our sea so that how the exercise ended and it was very successful. Everybody played his or her part according to what had been arranged", said the former FOC, Eastern Naval Command, Commodore Steve Darbo (RTD).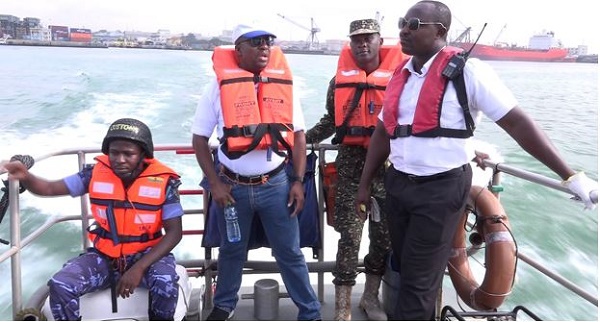 The Agencies in the maritime sector were trained on various forms of collaborative response to emergency issues on the country's waters.

The over 40 participants were grouped into cells in crises management including intervention cell, logistics cell, Think Tank Cell and Public Relations Cell. The various cells were then taken through several forms of drills by trainers from the European Union Gulf of Guinea inter-regional network on dealing with pirate attacks, as well as illegal oil transfer on the country's maritime domain.
They conducted a well-organized response stimulation exercise jointly to counter an oil bunkering exercise on sea as well as render medical services to persons who will be injured at sea.

"Well in terms of equipment, we do have the equipment we do have to bring in private drones we have to come in with satellite imagery whereby we will be able to see real pictures.

We told you we were looking for a vessel, if you have a satellite imagery, or if you have in real time, you will be able to see where the vessel is before they come into anchorage so those are some of the things we need to make investments and I think as a growing maritime country we are almost ready to invest to make sure we can keep illicit activities from our waters", the Director General of Ghana Maritime Authority, Kwame Owusu explained.

Addressing the media after the exercise, Commodore Steve Darbo (RTD), a former FOC at the Eastern Naval Command and a Security expert described the exercise as very successful adding that it will help in combating piracy and other illegal activities.

The Director General of Ghana Maritime Authority, Kwame Owusu, stated that security on Ghana's waters is still intact but there is the need to further tighten the borders to fight against illicit activities and maritime crime.
Source: Eye on Port