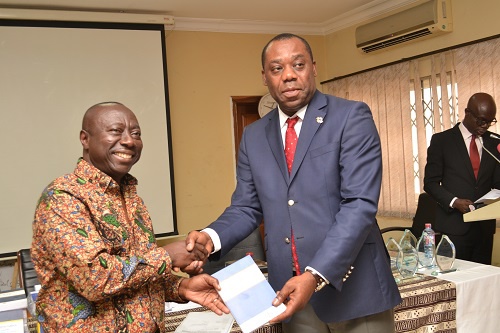 The Ghana Maritime Authority (GMA) has donated a total of five thousand (5000) GMA branded Mathematical revision textbooks to the Ministry of Education.
This gesture forms part of Ghana Maritime Authority's corporate social responsibility in support of government's agenda of implementation and sustaining quality Free Senior High School.

During the presentation ceremony at the Ministry of Education, the Minister of Education Dr. Matthew Opoku Prempeh commended the Ghana Maritime Authority for the kind gesture and urged other organizations to follow suit.

He said the Ministry was concerned about the huge low score, and failure of Mathematics at the Senior High Schools in the West African Senior High School Certificate Examination, hence the need to compile a mathematics revision textbook which would be 'student-friendly' with the aim of improving on the learning and teaching of the subject in schools across the country.

"We want Math to be enjoyable to students because" over the years many students have had erroneous impression that Math is a difficult subject resulting in poor performance of it.
"We're not happy with the result, and if we really want to develop this country then we must make the studying of mathematics a priority', he added.

The Minister expressed his gratitude to the Director General, Mr. Kwame Owusu with a plaque. The Director-General on his part touched on the importance of the subject and promised to print an additional two thousand copies to ensure that many SHS schools and students get copies.

Other donors include Ghana Ports and Harbour Authority, Ghana Shippers' Authority, Ghana Revenue Authority and National Investment Bank.