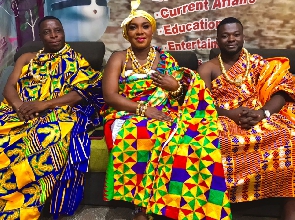 The National Commission on Culture has launched this year's Wear Ghana Festival under the theme, "Wear Ghana, for Jobs in Ghana."
The festival aims at showcasing and promoting Ghana's cultural heritage and local textile industry, as well as recognizing creativity in the fashion industry.

The mission of the National Commission on Culture is to promote the growth and development of Ghanaian culture, making it more relevant to human development.

"This year's festival is an opportunity to promote our national identity and encourage institutions to support our local fabrics and accessories," the Commission said in a statement on Wednesday.

The Commission added, "As the world becomes increasingly globalised, it is now important more than ever to celebrate and preserve our cultural traditions and uphold the integrity and memory of cultures, particularly the Ghanaian culture. One way to do this is by making conscious efforts in promoting our Ghanaian wears and their accessories.

"Socio-cultural and economic researchers and scholars have indicated that clothing and fashion are key elements of a people's culture that reflect on the people's history, customs. belief systems, knowledge systems, communication and their general way of life as well as their natural resources.
"In recent times the clothing and fashion industry have become one of the leading contributors to economic growth of many countries across the globe. It is therefore critical that we pay attention to the needs of the clothing industry in Ghana.

"It must not be lost on us that one of the leading causes of the economic downturns we are facing as a country is excess importation of used clothing and other fabrics into the country. The question is why are we not patronising ours?"

"The National Commission on Culture, since the inception of Wear Ghana Festival in 2017, has used the month of March to increase advocacy and campaign on made-in-Ghana clothing, fashion and accessories and fabrics.

"The festival is used to promote all locally made products and services, from food to herbal medicine. This we know has the potential to create jobs and boost the Ghanaian economy as well as increase awareness and confidence in what we have as a people.

This year's edition will feature several activities aimed at creating employment opportunities for Ghanaian youth in the fashion and creative industry," it said.