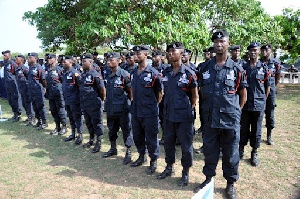 A security analyst and a political lecturer at the University of Cape Coast, Dr. Kingsley Addae has accused politicians in Ghana of making the Police Service a 'job for the boys'.
"There is protocol in recruitment processes within all the security agencies. The police service recruitment process has, however, become 'job for the boys'. He told Kwame Tanko on Angel Fm in Kumasi this Wednesday.

According to him, the act is not only associated with the party in power but both parties in the country since the inception of the fourth republic.

"When National Democratic Congress (NDC) is in power, they recruit their members while the New Patriotic Party (NPP) also does the same". He indicated

Mr. Addae accusations came as response to how best the country can deal with the state of insecurity in Ghana.

The Ghana police service has recently suffered at the hands of criminals.
Just at the beginning of the year, almost five policemen shot dead leaving some injured in line of duty at various posts

Many security analysts have accused the current government saying its activities condones criminal commotion looking at how the so-called Delta Force were dealt with when they stormed a court room and unlawfully freed some of their members.

Dr Addae stated that political parties in the country have over the years created criminals citing vigilante groups and their activities as his reason.

"Not until making the police Service independent, and depoliticizing the security Agencies, there will always be insecurity in the country.