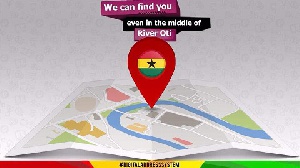 A civil society group, Coalition for Democratic Governance, has waded into the controversy surrounding the Ghana Post GPS App, describing the digital address system deployed by government as a scheme to create, loot and share.
According to them, the huge cost of the app being used to facilitate the address system is ridiculous because it is based on existing technology.

Vokacom developed the app to be used for Ghana's digital addressing system but a GPS Expert for the group, Kingsley Mortey claims the Ghana Post GPS app is less effective, adding that the technology already existed on Google and the newly introduced app is meant to fleece the taxpayer.

"The reason why I say Google GPS is the same as Ghana Post GPS is that they just used the same thing that is already available to us and try and make it personal to them and Ghana Post someway somehow decided that they are going to buy from them," Mortey told the media at a news conference Monday.

He added: "There is no government that Google is charging for any service because it is Google's prerogative to try to map every country so that businesses like FedEx and others can use their services and through that they can make money. Clearly from the defence made by Ursula Owusu, George Andah and Dr. Bawumia is clearly create, loot and share."
However, a Deputy Communications Minister George Andah, who was present at the news conference, described claims by the group as political propaganda.

"None of the issues they have raised are issues of substance. It's clearly propaganda talk show, they ask why the vice President, Madam Ursula Owusu and myself are the ones that are talking about the Ghana Post GPS,of course if you have a competent team you don't need an IT person to talk about it because we understand what is going on so leave the technical people to do their work so that we also talk about the policy," Mr. Andah stated.