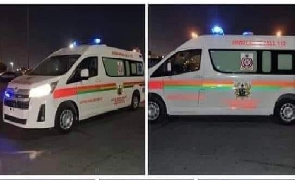 Member of Parliament for Juaboso, Kwabena Mintah Akandoh has chided the Ministry of Health for its eerie silence on the recent brouhaha over Government of Ghana -branded ambulances on sale in a Dubai dealership.
Akandoh maintains that the Ghana Ambulance Service are the wrong agency to respond to the issue stating that they are not contracting parties in the supply of the said ambulances.

"I don't see the locus of the Ghana Ambulance Service here because the ambulances have not been delivered to take custody of the ambulances and they are not a contracting party to the agreement.

"Here, the Ministry of Health and the supplier (are the contracting parties), that is how the agreement reads," he submitted on the May 31, 2023 edition of TV3's midday news.

"So, if there is any institution to throw light on the agreement, it should be the Ministry of Health and not the Ghana Ambulance Service," describing a recent statement by the Ambulance Service as "hollow."

He pointed to the Auditor-general's report that confirmed that government had entered an agreement of over US$4 million with commitment of over US$600,000 and that the consignment of World Bank-funded ambulances were supposed to be delivered on January 2022.
He stressed that despite a March 2023 deadline, May 2023 had ended without the consignment having reached the country.

The Dubai dealership in a statement of May 30, explained that the ambulance was displayed as captured in the viral video but that it was not for sale.



Meanwhile, watch a snippet of GhanaWeb TV's latest program that focuses mainly on Everyday People below:




You can also watch the latest episode of People & Places on GhanaWeb TV:





Meanwhile, watch the latest episode of SayItLoud on GhanaWeb TV below:


SARA