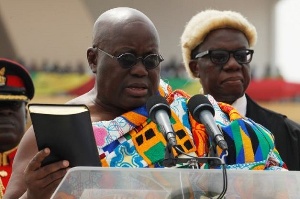 Ghana's President Nana Akufo-Addo has appointed former attorney general Martin Alamisi Amidu as the country's first ever special prosecutor who will focus on investigating corruption among public officials.
Mr Amidu, a member of the opposition, is nicknamed "Citizen Vigilante" for his "no-nonsense stance and campaign against corruption", Ghana's privately owned Citi FM news site reports.
Citi FM goes on to say that the role was created in a new bill that, notably, Mr Adimu himself had criticised for giving the special prosecutor too much power.