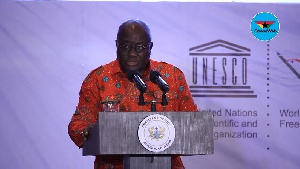 Professor Lydia Apori Nkansah, Dean of the Faculty of Law, Kwame Nkrumah University of Science and Technology (KNUST), has called for intensification of the national anti-corruption campaign, to stop the abuse of entrusted power for private gain.
Corruption, she said, remained a huge threat to the nation's socio-economic progress and demanded collective action to effectively deal with.

"Ghana already, has in place well-structured anti-corruption institutions. We, however, need stronger will from the people at the family, community and national level to enable them work efficiently."

She was speaking a three-day annual general assembly meeting of Amnesty International Ghana, held at Abankro in the Ejisu Municipality.

"Ending corruption and eradicating poverty: effective ways to advance social and economic rights", was the theme chosen for the event.

The meeting discussed national policies and programmes designed to tackle corruption, outcomes and implementation challenges alongside the role of stakeholders.
Prof. Apori Nkansah noted that successive governments had sought to address the problem and yet "corruption seems to be gaining formidable grounds in our society. The nation's wealth basket is leaking badly, causing hunger, deprivations and poverty".

"Resources meant for development are diverted for private gains. This is evil and must be eradicated as it deprives people from reaching their potential and becoming all that they were created to be."

She called for severe punishment for public office holders caught in corrupt practices and said Ghana could do better in the fight against the canker.

Nana Afrane Okese IV, Omanhene of Ejisu, asked that corrupt officials were named and shamed, adding that, this was how to make corruption a disincentive.

Mr. Robert Akoto Amoafo, Director of Amnesty International Ghana, advised members of the local chapter, to redouble their effort at helping people to reject dishonest conduct.