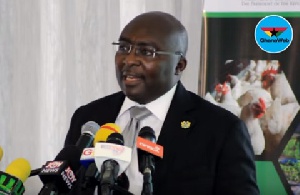 Vice President, Dr Mahamudu Bawumia believes Ghana has what it takes to overtake the United States of America (USA) and the United Kingdom (UK) in development.
He argues that the mindset of some persons that it is not possible is partly to blame for where the country finds itself insisting that when the mentality of the citizenry is reoriented, this will become a reality.

According to him, most people are of the erroneous impression that because Ghana is a developing country, it must always be trailing behind the developed world indicating that the time is ripe for a shift in this paradigm.

Addressing the 18th congregation of the University for Development Studies (UDS) last weekend, Dr Bawumia observed that when Ghanaians and the naysayers begin to think possibility, the country will be a pacesetter.

"Unfortunately people don't want to think and believe we can actually do things that are better than the more advanced countries. People have a mindset that we must be behind always. I say no, we can move forward and we can overtake them, you must have confidence and you can do things that are better than what America or the UK can do", he said.
Speaking on the Digital Address System, the Vice President said it remains one of the best ever implemented by any country the world over.

"Every property in Ghana now has a unique address whether it is on water or land it has an address. Which means every 5×5 land in Ghana today has a unique address…..you no longer need rely on way food vendors to know your direction because there is a unique national address system which will take you anywhere you want to go in Ghana without any problem", he stated

"For me and I say this very seriously, this national address system can is implementing is more advance than the address system we have in the UK and the US and I encourage everybody to download the app", he added.