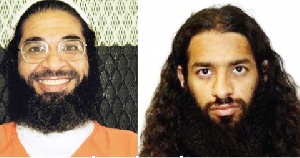 The Deputy Youth and Sports Minister, Pius Enam Hadzide on Tuesday said Ghana can still keep the two Guantanamo Bay detainees after their two-year stay period expired last week Saturday, January 6, 2018.
According to the Deputy Minister, the original plan the Mahama led National Democratic Congress government entered into with the American government was that, upon expiration the two could be assimilated into a Ghanaian community and could become part of the system.

"So as it stands now, the Gitmo 2 can be allowed to stay", he said.

Mr. Pius Enam Hadzide justified his new position on the Gitmo 2 issue despite their criticisms while in opposition, saying " As it stands now, I feel, we can still keep them but is in confinement that we cannot strictly insist on the position of refusing or not accepting them because the harm has already being done".

He said this to TV3 New Day show host, Johnnie Hughes on Tuesday, 9th January, 2018 as a response to whether NPP government will allow the Gitmo 2 to stay or not since the two-year stay period had expired.

On the contrary to his statement, the Minister for Foreign Affairs and Regional Integration, Ms Shirley Ayorkor Botchwey in August, 2017 said the ministry and other stakeholders were already working on an exit plan for the two detainees before their expiry date, 6th January, 2018.
Ms Ayorkor Botchwey also stressed that, there will be no further obligation to keep them "unless the two governments agree otherwise and in accordance with due process"

It is recorded that, the two detainees, Mahmud Umar Muhammad Bin Atef and Khalid Mahmud Salih Al-Dhuby, who were in detention for 14 years after being linked with terrorist group Al-Quaeda, were brought to Ghana in 2016 for a period of two years.

They were released as part of efforts to close down the US operated Guantanamo Bay prison which is known to have had a questionable human right records over the years.

The move was criticized by many Ghanaians including the then opposition New Patriotic Party (NPP) describing them as a security threat despite the assurance by US government.