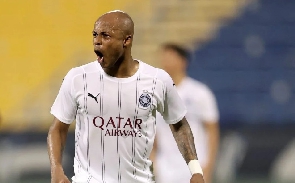 Ghana captain Andre Ayew has sent a heartwarming message to Muslims around the world as they embark on the holy month of Ramadan.
In a post on his Instagram page, Ayew expressed his well-wishes and blessings for all Muslims.

"On my own behalf and on behalf of players of the Black Stars, I wish our Muslim brothers and sisters in Ghana and the world over a fulfilling and rewarding Ramadan. May the blessings associated with Ramadan extend to everyone. Ramadan Kareem," Ayew wrote.

Ramadan is the ninth month of the Islamic calendar, and it is observed by Muslims worldwide as a month of fasting, prayer, reflection, and community.
During the holy month, Muslims fast from dawn to sunset, abstaining from food, drink, smoking, and other physical needs.

Ayew's message was received with gratitude and appreciation by many of his followers, with some commenting that it was a beautiful gesture from the football star.

Ayew is one of Ghana's most prominent football stars and currently plays for Premier League side Nottingham Forest, a club he joined during the winter transfer window after mutually terminating his contract with Qatari side Al Sadd.