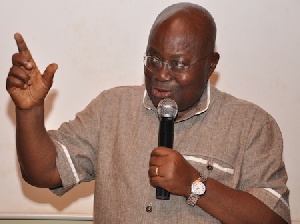 The Deputy Minister of Education in charge of Tertiary Education, Samuel Okudzeto Ablakwa said Ghana deserves better performance from the flagbearer of the New Patriotic (NPP), Nana Addo Dankwa Akufo-Addo rather than the frequent attacks on ideas and projects of the incumbent government.
Mr. Okudzeto Ablakwa said if Nana Addo indeed claims "to be the most competent Ghanaian running for President" he should learn to avoid being ignorant and check facts before sending out misleading messages.

The minister's comments came after Nana Addo told students of Cape Coast Polytechnic Friday, June 17, 2016, during his tour of the Central region that he will convert all 10 Polytechnics in the country into Technical Universities when elected as president on November 7.

Piecemeal approach to Polytechnics wrong

The flagbearer of the NPP said while addressing students of the Cape Coast Polytechnic "We cannot do this policy piecemeal. Either you are doing it for everybody, or you are not doing it at all. We can't have a situation where some are picked and some are left out of the process. It is not a good idea. Let us make sure that all the polytechnics in our country, in each of the regions, have the same infrastructure and the same level of development. Then we can make the transition for all of them. But pick some and leave some out, then you are disadvantaging and destabilising the ones that you have left out."
Nana Addo added, "Everything John Mahama does, there is no proper preparation and there is no proper followthrough of the idea", Nana Akufo-Addo assured the students of Cape Coast Polytechnic that "when we get the chance (in 2017), we are going to make sure we do all together as one."

But Mr. Samuel Okudzeto in a statement said he is amazed Nana Addo actually failed to do his homework well because "Unfortunately for Nana Addo, incontrovertible evidence abounds pointing to the fact that President Mahama has consistently indicated that all 10 polytechnics will be converted."

The minister said the 2013, 2014, 2015 and 2016 State of the Nation Addresses are all evidences that points to the fact that all Polytechnics will be converted with time.

"It seems strange though that Nana Addo appears to be the only Ghanaian claiming not to know that the vision and agenda of President John Mahama is to convert all 10 Polytechnics into Technical Universities. I do hope that we are not witnessing a replay of Nana Addo's Free SHS saga where a 1992 Constitutional provision was disingenuously presented two decades after as an original idea of Nana Addo," Mr. Ablakwa said.