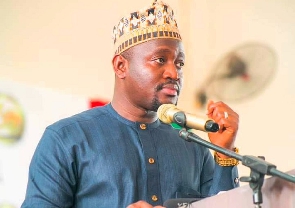 Member of Parliament for Tamale North, Alhassan Suhuyini believes that Ghaa has a shameless old man as President.
His comments come on the heels of the President's claim that he doesn't clear corrupt appointees.

Suhuyini, who made his point known in a post shared via Facebook, said, "The man the Special Prosecutor identified as the Mother Serpent of Corruption says weytin? Did he really quote frm SP? Indeed we have a shameless Oldman as Prez".

President Nana Addo Dankwa Akufo-Addo, while speaking at the BAR Conference, said, "It is not my job to clear or convict any person accused of wrongdoing or of engaging in acts of corruption. That is the job of the courts and the law enforcement agencies".
He added, "my job is to act on allegations of corruption by referring the issue or issues to the proper investigative agencies for the relevant enquiry and action, including, if necessary, the suspension of the affected official, pending the conclusion of investigations. That is exactly what has been done since I assumed the mantle of leadership on January 7, 2017".