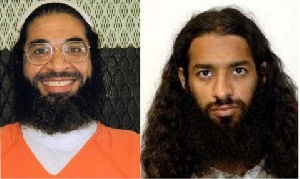 Government says it is engaging some countries as it explores the possibility of repatriating the two ex-Guantanamo Bay detainees in Ghana.
Some Ghanaians, including civil society and religious groups, feel they have overstayed their welcome in Ghana and are therefore mounting pressure on government to send them away.

The two-year bilateral cooperation between the governments of Ghana and the United States of America to host Mahmud Umar Muhammad Bin Atef and Khalid Muhammad Salih Al-Dhuby expired on January 6, 2018.

To enable their continuous stay in the country, the two were covertly given refugees status as far back as 2016; an exposé that have angered many Ghanaians.

But Information Minister, Mustapha Hamid has hinted that the government is not comfortable keeping the two "low risk" ex-detainees, though he confirmed they have "behaved properly" in Ghana as admitted by President Akufo-Addo weeks ago.

He told Joy FM's Newsfile on Saturday, "for now they would be kept in Ghana until the time another country would be willing to accept them".
Asked if Ghana is pursuing the option of sending them to another country, he revealed, "at this stage, we don't want to put out names, but certainly we are in touch with countries, but because those talks are not conclusive, it is not correct diplomatically to begin to say we are talking to Togo or Israel or whatever, whatever".

Foreign Affairs Minister, Shirley Ayorkor Botchwey told Parliament last week that government finds it difficult to repatriate the two due to the refugees status they carry.

Moreover, because they have 'comported themselves', government has no "basis to expel them", the Information Minister observed.

Mustapha Hamid ruled out any possibility of sending them back to their country of origin.

"Wholly and truly Yemen is all about gone. There is instability in Yemen, there is no peace in Yemen, there is bombardment.
"If as refugees they plead that we cannot go back to our country because we are in danger of being killed in our country, really you cannot take them back to Yemen," he explained the situation government finds itself.

Meanwhile, legal practitioner, Martin Kpebu has rejected government's position suggesting that it hands are tied in sending the two away due to their refugees status.

"If these guys really constitute a security threat, they would have been sent away long ago, perhaps we should educate our populace well to trust our national security, to curtail panic…we should keep them, it will help us to continue sharing intelligence with America which is a big asset," he suggested.