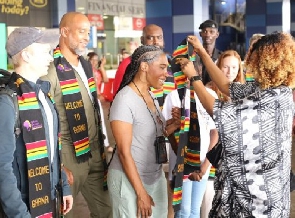 Renowned clinical psychologist and licensed mental health therapist from the USA, Dr Spirit, arrived in Ghana Sunday afternoon with her team of experts to engage Ghanaian mental health stakeholders on the way forward in tackling mental health issues in Africa, especially Ghana.
She was of the view that mental health requires serious attention to foster national growth and economic development across Africa, using sustained advocacy to change behaviuors and attitudes towards mental health especially stigma.

In a briefing at the Accra City Hotel shortly after her arrival, Dr Spirit indicated that Ghana is a beautiful place with hospitable people, and urged all diasporans to take a trip to Ghana as a way of distressing and keeping up good mental health.

"I hope all Ghanaians make some time with me at the Accra City Hotel on Tuesday May 30, 2023 to talk and learn about Global mental health," she reiterated.

Ms. Sally Torpey the founder and CEO of African Women Reinvented and Sallet Fashion House, under whose auspices this event is being organized, expressed her joy in receiving Dr. Spirit and team in Ghana during the month of May which is dedicated to mental health awareness globally.
Ms. Torpey underscored the need to pool the expertise of all stakeholder within the mental health space to intensify the conversation about mental heath issues and its ramifications on families and country as a whole.

She encouraged concerned government agencies and NGO's to get involved to ensure sustained mental health and well-being.

Dr. Spirit arrived in Ghana with a seven-member delegation made up of mental advocates with varied specialties and experiences in the mental health front.