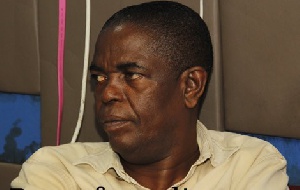 Wed, 6 Nov 2013 Source: peacefmonline
A senior socio-political commentator and Editor-In-Chief of the Insight newspaper, Kwesi Pratt Jnr. has expressed fears over the consequences of the impending strike threat by organized labour groups in the country.
Mr. Pratt, who has thrown his weight behind organized labour groups and the Trade Union Congress to embark on the massive strike action, dreads the nation may come to a standstill if government does not intervene to resolve the impasse.

The labour groups, under the auspices of the Trade Union Congress (TUC), have implored the government and authorities of the Public Utility Regulatory Commission to subside the new tariff adjustments on utilities.

The tariffs which stand at 78.9% on electricity and 52% on water have been widely criticized by the Labour Unions and several public and political commentators.

The TUC together with the public sector workers have threatened to embark on a nationwide strike action to deter government and the Commission from maintaining the percentages in the utility tariffs.

Speaking on Peace FM's political programme "Kokrokoo", Mr. Pratt averred the strike action may paralyze the country completely.
He explained that several associations have expressed interest to join the labour groups to strike against the government. These associations include the Ghana National Association of Teachers (GNAT), National Association of Graduate Teachers (NAGRAT), public health workers among others.

"If the government does not swiftly intervene and confer with Organized Labour to find a better way to resolve the hardships of Ghanaians, 18th November; Ghana will shut down," Kwesi Pratt warned.

He therefore warned leaders of the country to beware of their actions and inactions towards the Ghanaian citizenry because to him, they are gradually plunging the nation into an era where Ghanaians will gladly "flout their (leaders) pronouncements. We are heading towards a regime where Ghanaians will get fed up with them. They must be careful. Beware."

"When you are voted for to be in government, it doesn't suggest that you have much wisdom that the entire Ghanaian citizenry. If you're lucky, highly educated and given a task to perform by government, it doesn't mean you're wiser than us…This technocratic approach to government is very very dangerous. You cannot have a government of just technocrats...

"What at all is wrong with this nation? What at all is wrong with our leaders?" he queried.
Source: peacefmonline