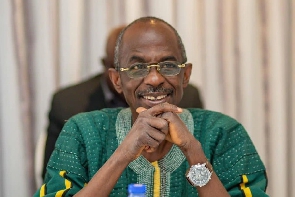 Johnson Asiedu Nketiah, National Chairman of the National Democratic Congress (NDC), has voiced concerns regarding the state of Ghana's democratic stability, citing ongoing economic challenges.
Speaking in an interview on Joy News on October 2, 2023, he raised an alarm about the potential political instability in the country. He contended that tolerance among citizens has been the saving grace preventing the nation from descending into chaos.

He pointed out that Ghana's history has witnessed various coups triggered by circumstances less severe than the current economic difficulties.

"Ghana is more than ripe for a coup d'état but the only thing that is saving us is the tolerance of Ghanaians.

"If you look at our history, you will see that the things that have led to previous coup d'états in this country were even less than what is happening now. But the only thing that is saving us is the tolerance and our collective history," myjoyonline.com quoted him to have said.

While acknowledging the resilience of the Ghanaian people, Nketiah cautioned against resorting to disruptive actions as a means of temporary relief.

He emphasized that such actions might only lead to a deeper crisis and perpetuate a cycle of instability with potentially intransigent new leaders.
He warned against underestimating the potential consequences of a coup d'état and the need to protect Ghana's democratic values.

AM/SARA

Click here to start the nomination process for the 2023 GhanaWeb Excellence Awards

Ghana's leading digital news platform, GhanaWeb, in conjunction with the Korle-Bu Teaching Hospital, is embarking on an aggressive campaign which is geared towards ensuring that parliament passes comprehensive legislation to guide organ harvesting, organ donation, and organ transplantation in the country.

You can also watch the latest episode of Everyday People on GhanaWeb TV below: