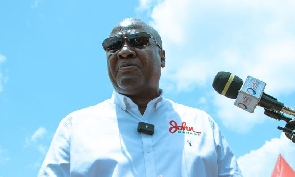 Ghana, government say, is the best destination for investors to do business but the Flagbearer of the National Democratic Congress (NDC), John Dramani Mahama thinks otherwise.
According to him, the country can no longer boast of being the best destination for business due to the economic crisis and unfavourable working conditions in Ghana.

He cited the increment in electricity and water tariffs, high inflation, and depreciation of the local currency as some factors that were hindering the growth of businesses.

Mahama asserted that multinational companies were leaving the country, and others who have stayed have moved their headquarters to neighbouring countries.

"Government's agreement with the Fund to increase electricity and water tariff quarterly brings an additional burden and let's face it, as captains of the industry, we know that Ghana has lost a pride as the best place to do business in West Africa," former president John Dramani Mahama said.

"The flowers that attracted you to set up your businesses in Ghana are gradually withering away. Many of your colleagues CEOs have left our shores and several others have moved their headquarters and staff to neighbouring countries," he added.

Mahama made these comments while delivering a speech at the 7th CEO Summit held in Accra on Monday, May 22, 2023.


Watch the latest edition of BizTech and Biz Headlines below:





ESA/FNOQ