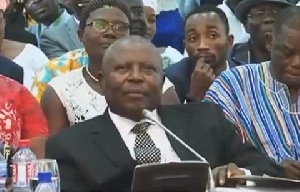 Special Prosecutor nominee, Martin Alamisi Bens Kaiser Amidu, has strongly submitted that he is bent on fighting corruption if approved to occupy the position and that Ghana is not a milking cow where unscrupulous people steal.
Speaking in firm but loud voice during his vetting by the Appointment Committee of Parliament, the Cadre without a shred of fear from any quarters, said one of the ways to limit the spate of corruption in the country is to put in place mechanism to close the leakages in the system.
However, he said he will continue to fight corruption whether his appointment is approved or not. According to Martin Amidu, the work he is done so far makes him a very credible person to occupy the Special Prosecutor's Office.