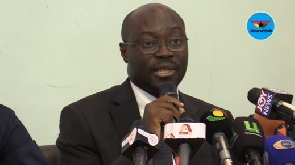 The Minority in Parliament is predicting Ghana's return to the IMF for a bailout given the deteriorating economic conditions in the country.
According to the NDC MPs, the ballooning public debts which is projected to be GHC220 billion by end of year as well as dwindling foreign reserves will compel government to run to the Briton Wood Institution for assistance barely a year after exiting from the 3-year program, entered by the former Mahama addministration.

Reacting to the Mid-Year budget review presentation by finance Minister Ken Ofori-Atta, minority spokesperson on finance Cassiel Ato Forson described the address as deceitful.

"I will not be surprised if Ghana returns to IMF, we go to IMF for balance of payment support. What it means that when your reserves start coming down and investors start losing confidence in you and you need to show them that you can payback your debt, that's your currency is not doing well," he told the media Tuesday.

On his part, former Deputy Power Minister John Jinapor called for immediate withdrawal of the increments in the petroleum sector levies arguing reasons given for the adjustments are untenable.

"In this country we must be principled , you cannot be against ESLA two years ago and all of a sudden be a proponent. They described as ESLA as a nuisance tax and Mahama was described as devil and insensitive".

On Monday, Finance Minister Ken Ofori Atta announced an increment in the Energy Sector Levies.
Presenting the 2019 midyear budget review to Parliament on Monday July 29, Mr. Ofori Atta announced that Ghanaians will have to pay GHp20 more for a litre of petrol and diesel and GHp 8 more for a kg of LPG.

"Mr. Speaker, you may recall that Government in 2017 issued the Energy Sector Levy Act (ESLA) Bond, which has, to date, raised almost GHS 6 billion on the back of ESLA levies to pay for legacy debts from the NDC's "dumsor days".

"The bond proceeds were used to liquidate approximately 60% of the energy sector legacy debts. Government proposes to increase the Energy Sector Levies by GHp 20 per litre for petrol and diesel and GHp 8 per kg for LPG, so as to increase the inflows to enable Government issue additional bonds to pay down our energy sector debt obligations.

"Based on current indicative prices for petrol and diesel this translates to GHp 90 per gallon."