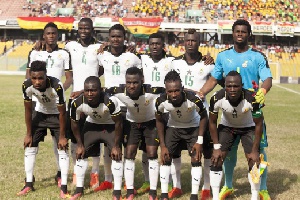 Ghana moved up two places to 43rd in the latest FIFA ranking released for the month of March but remained stagnant on the continent.
Last month, the Black Stars profited from their semi-final place at the 2017 Africa Cup of Nations to move nine places up.

Egypt continued their surge by moving three places up to the 20th spot and remained the highest ranked team in Africa.

This was after FIFA took into consideration only four 'A' international games.
South American heavyweights Argentina and Brazil remain in first and second respectively, while reigning FIFA World Cup champions Germany stay third.

The top 20 are unchanged from February except for two notable exceptions. Poland (12, plus 2) reached their best ever world ranking, joining Wales in joint 12th position for March.

An honourable mention goes to Burkina Faso (36, plus 2) who, like Poland, reached their best ever position in the Ranking.