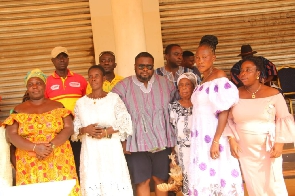 Nkosuohene of Kwahu Nkwatia Nana Owiredu Wadie (I) has called for the Strengthening of social safety net interventions for poor widows, aged, and vulnerable in Ghana.
Latest multidimensional survey by Ghana Statistical Service (GSS), in 50 out of the 261 districts (19.2%), more than half of the household population is multidimensionally poor.

Widows and persons living with disability are among the poorest and vulnerable in the country.

With the worsening economic challenges amid underdeveloped safety net and insurance mechanisms, as well as high levels of gender inequality in rights, human development, and access to assets and employment, the plight of these vulnerable group continue to deteriorate.

Livelihood Empowerment Against Poverty (LEAP) under the Ghana Productive Safety Net Project and Disability fund are common safety net interventions in Ghana albeit inadequate funding.

At a brief event as part of the Nkosuohene's philanthropic gesture donating relief items and cash to widows, disabled aged and the vulnerable in Kwahu Nkwatia through his Kabaka Foundation,Nana Owiredu Wadie (I) said enough funding must be pushed into social safety net interventions for the poor and vulnerable to alleviate their sufferings.
He assured to build a factory in the area to create jobs for the youth particularly children of such poor and vulnerable groups to end the quagmire of poverty.

"We came to support the aged, widow and the disabled with relief items we gave them cash and food items. We are planning to build factory to help our brothers and sisters in Kwahu to get some employment opportunities" Nana Owiredu Wadie said.

Some of the beneficiary widows recounted the difficulty of single-handedly taking care of their children and themselves after losing their husbands

Christiana Boamah, a 60-year-old widow lost her husband 15 years ago. She said the family of her late husband dispossessed her and seven children access to acres of cocoa farm of the late husband hence out of frustration left Kumasi to stay in her mother's house at Kwahu Nkwatia to labour and engage in petty trading to take care of the children.

The widows were grateful to Nana Owiredu Wadie I for his annual support. They called on government to provide benefit scheme for poor widows in the country.
Meanwhile, some persons with disability at the event appealed for the establishment of a workshop and also called on government to take a second look into the mode of disbursement of benefits from the Disability Common fund.

Kingsley Boateng, Chairman of Disabled Association in Nkwatia said financial benefits through the Disability common fund must be disbursed via mobile money or bank accounts of individual beneficiaries instead of the current module of purchasing startups and tabletop disbursement of cash.

The assembly member for Dompim Electoral area in Kwahu Nkwatia, Dominic Yeboah was grateful to Nana Owiredu Wadie I and father Opanyin Kwame Wadie for their commitment to supporting the poor and vulnerable as well as the overall development of the area.