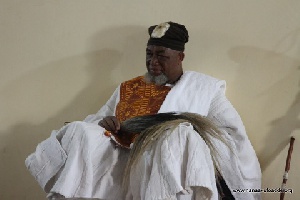 Sat, 24 Dec 2016 Source: Daily Guide
The Paramount Chief of the Talensi Traditional Area in the Upper East Region, Tongo Rana, Kubilsong Nalebegtan, believes that, President-Elect, Nana Addo Dankwa Akufo-Addo, is God's response to the prayers of many Ghanaians, to have a strong and committed leader to discourage corruption in government.
According to him, the warning given by the President-Elect, to incoming appointees over corrupt practices in government, sends a signal that, he will be willing to discourage corruption in his government.

Nana Addo is reported to have warned that appointees who are thinking of making money in government, at the expense of the suffering Ghanaians, should rather turn down the appointment and go into private business to make money.

Tongo Rana, Kubilsong Nalebegtan pleaded with the President-Elect to consider revamping the Pwualugu Tomato Factory as part of his plans to boost the Agricultural Sector, saying, "… if the factory is revamped, it will create jobs for many youth and also create the needed market for the many tomato farmers in this district." He said.

Nana Addo who was visiting the Tongo Rana Palace for the second time in a space of 31 days, promised that, an NPP government will work hard to ensure that, many job opportunities are created to absorb many Ghanaians, especially the youth, so as to make them responsible for their lives and that of their families.
"The promises we made during the election campaign are very achievable; we only need to commit ourselves to them and work hard to achieve them as a government and you as a people. When we take over government and things fall in their right places, Ghanaians will see that, I am a man of my words."

Nana Addo commended the Tongo Rana for keeping his Traditional Area at peace and called on him, to support the government in any way possible to attract development projects to the Talensi district, assuring that, … "my doors are opened, you are free to come in with suggestions on to how to develop the Talensi district, the Upper East Region and the country as a whole. It is my expectation that, same opportunity will be given to me to also come in and consult you when the need arises."

The President-Elect was accompanied on his two day "Thank You" tour of the Upper East Region by his Vice, Dr. Mahamudu Bawumia, National Women Organiser, Madam Otiko Djaba, acting General Secretary, John Boadu, National NASARA Coordinator, Kamal-Din Abdallah and the Upper East Regional Chairman, Mohammed Murtala Ibrahim.

Others include, all NPP Parliamentary Candidates in the 2016 Parliamentary Elections in the Upper East Region, as well as Former Regional Ministers and Ministers of State from the region.
Source: Daily Guide