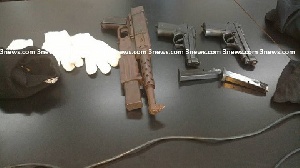 A security analyst and Peace Ambassador, Mr Irbad Ibrahim has attributed the recent spate of armed robberies in parts of the country to the failure of successive governments to resolve the canker of unemployment.
According to him, many security analysts and other educationists have said time without number that youth unemployment is a sitting time bomb and "we are beginning to feel the vestiges of that."

He revealed that currently, Ghana had become a leaking bucket for proliferation of arms where sophisticated weapons of the highest order are transited to other parts of Africa.

Mr Ibrahim added that in the past, it was not common to see or hear cell break or jail break but "today, people are holding AK47 machine guns to commit crime and steal money in broad day light."

Mr Ibrahim said since 1992, there hasn't been any deliberate sustainable national policy to create jobs and tackle issues of youth employment.

He said most of the jobs in the country are created for political expediency and the youth, who are not faithful to that political party or don't belong to that party, are excluded from being given jobs.

Mr Ibrahim said "as we speak, there is so much frustration and despondency within the Ghanaian youth because they are angry, hungry and are venting their spleen on the system.
"If the youth have nothing to eat, soon they will make an attempt to eat the rich because they think they are the main sources of their deprivation.

"What I know is that, the devil always finds work for the idle hands and I think we don't need the big grammar but action and jobs," he stated.

He added that the insecurity situation in the country is as a result of some security decisions taken by the current government such as the anti-galamsey fight.

"You don't stop an age-old problem like this with ultimatum or deadline," he stated.

He said the use of soldiers to chase illegal miners and deprive them of their livelihood is certainly responsible for the 'abnormal' security situation in the country.

"What other signs or signals are policy makers waiting for before addressing the issues of youth unemployment? To resolve this social canker, there should be conscious effort to tackle youth unemployment on a large scale and anti-galamsey because if the soldiers push them in the Eastern Region, Greater Accra will suffer," he stated.