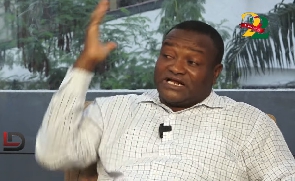 Ghanaian politician and founder of All People's Congress (APC), Hassan Ayariga, has expressed worry over how selfish interest has taken over national interest in the political landscape, especially those in the smaller parties.
According to him, when he became the Flagbearer of the People's National Convention (PNC), he wanted to change the whole scenario of hanging around the major political parties, thus the New Patriotic Party (NPP) and the National Democratic Congress (NDC).

Unfortunately for him, he realised people were not really interested in building their smaller parties but were rather in for selfish gains.

Speaking on Atinka TV's morning show, Ghana Nie with Ama Gyenfa Ofosu Darkwa, Hassan Ayariga explained that when he returned from Germany, he funded activities of the political party (PNC) including its campaign.

He noted that he was not privy to the fact that people funded political parties and therefore he used his own money to finance activities of the party.

Regrettably, he said the people around him who were supposed to support him build the party were only interested in the money.
At some point, he said the people felt he was taking money from sponsors and spending it alone without knowing it was his personal funds.

Due to that, he said most of them did not really commit themselves to the growth of the party.

He was convinced that Ghana had not been able to have a united third force because selfish interest has taken over national interest.

"Even if I had gone for money from somewhere, I was building the party but that was not their interest. The interest was sharing the money. People are not interested in building smaller parties. That is why as of today, we are finding it difficult to build a third force, because selfish interest has taken over national interest, especially in the minority parties," he said.

He continued ,"I have been spearheading the issue of building a third force and we have gotten resistance because many of these political parties, their interest is not to win power but it is about what they get. If you have 10 percent of a million dollar, it is better to have 100 percent of a 10,000 dollar company."