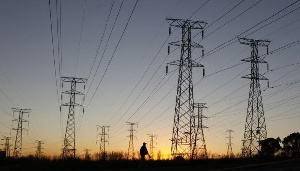 Access to electricity in Ghana is over 80 per cent, according to the Minister of Power, Dr Kwabena Donkor, making the West African nation one of the highest on the African continent.
Dr Donkor affirmed on Tuesday, October 27 that Ghana "ranks highest with South Africa" in terms of penetration of electricity.

The Power Minister made this known during a ceremony to set sail a 225 megawatt power barge from Turkey.

The country has battled energy crisis since 2012, when pipelines carrying gas from Nigeria were tampered with by high sea pirates.

Many Ghanaians have, however, laid the blame at the doorstep of the Electricity Company of Ghana (ECG), describing the state's power distributing company as inefficient.

But Dr Donkor told Ghanaian and Turkish officials in Istanbul that Ghana's energy penetration is paralleled only by South Africa.
"Let me dare say here that in terms of access to electricity, Ghana today ranks highest with South Africa with over 80 per cent penetration of electricity."

He also gave the assurance that the power crisis will end soon.

"We have gone through a temporary period of power challenges but as we speak we are almost at the end of it."

Dr Donkor has promised to end the crisis by the end of the year. He has vowed to resign if the crisis is not solved by 2016.
Related Articles: