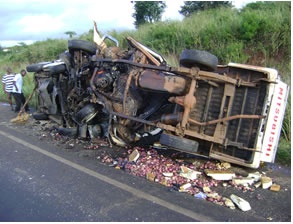 Fri, 30 Sep 2011 Source: GNA
Accra, Sept. 29, GNA – Statistics from the National Road Safety Commission (NRSC) indicates that 11,400 road crashes are recorded annually, resulting in 1,400 injuries and 1,800 deaths.
In addition, 19 fatalities per 10,000 vehicles in Ghana shows that 43 per cent of fatalities involved pedestrians, 53 per cent involved occupants of vehicles and 23 per cent of all pedestrian fatalities involved children below 16 years.

This was announced by Mr Siaw Ampadu, an acclaimed 'One man Demonstrator on Carnage on the Road" when he presented petition to the Ministry of Transport and Ghana Highway Authority in Accra on Thursday with a call for state of emergency to deal with road crashes.

He said about 1,431 people had died nationwide through road crashes from January to August as compared to about 1,181 recorded within the same period last year, indicating an increase of 20 per cent.

Mr Ampadu said about four people died daily through road crashes and Ghana lost more than 230 million dollars annually from more than 1,600 deaths.
"The loss correlates to 1.7 per cent of the country's Gross Domestic Product (GDP)," he said.

Mr Ampadu said the major cause of road crashes in Ghana was speeding which accounted for 60 per cent.

He urged government to ban drinking spots around lorry stations to prevent drivers from indulging in excessive alcoholism.

Mr Ampadu urged the NRSC not only to intensify road safety education during festive occasions but also throughout the year to reduce the carnage.
Source: GNA