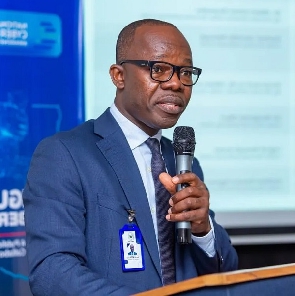 Mon, 4 Sep 2023 Source: GNA
Ghana recorded GH¢49.5 million direct financial losses through cyber fraud activities between January and June, this year.
The figure constituted only a fraction of cases reported to state agencies, while financial losses of unreported cases could exceed the amount reported so far.

Dr Albert Antwi-Boasiako, the Director-General of Cyber Security Authority, announced this at the media launch of the National Cybersecurity Awareness Month in Accra on Sunday.

October was declared a 'National Cybersecurity Awareness Month' on the theme: "Promoting a Culture of Digital Safety".

It is aimed at creating public awareness and conscientising Ghanaians and organisations on opportunities and threats of cyberspace and ensuring a meaningful utilisation of the online resources for a safer environment.

Dr Antwi-Boasiako said although Ghana had made a lot of progress in creating public awareness on cybersecurity issues, there was a need to intensify awareness creation amongst the youth.

He said the Authority received 41,285 contacts between October 2019 and July 2023 of complaints from the public on cybercrime and other related activities.

Of the figure, 41 per cent was online fraud including shopping fraud, romance fraud, online blackmail and identity fraud.
Dr Antwi-Boasiako therefore called for collective and individual responsibility in protecting oneself against digital fraud.

He urged the public to contact the Authority's toll free line 292 to report any issue concerning online fraud for prompt action.

Dr Antwi-Boasiako also called for institutional harmonisation and integration of the work of state agencies collating statistics on arrests, prosecutions and convictions of persons involved in cyber fraud.

The CSA Boss observed that global digitalisation trends had changed the way businesses conducted business.

Therefore, the government was creating opportunities, and enabling interventions for economic growth.

Recent Statistics indicate that more than 62% (4.95 billion) of the world's population have access to the internet.

In Ghana, internet penetration has increased exponentially from 2.31 million in 2012 to 17 million users in 2022 representing 53% of the population.
Dr Antwi-Boasiako said cybersecurity awareness was a global initiative aimed at raising awareness about cybersecurity and promoting best practices for online safety.

Ghana started the National Cybersecurity Awareness in 2017 with the establishment of the National Cyber Security Week which subsequently evolved into a month-long event under the auspices of the then National Cyber Security Secretariat.

According to the Groupe Special Mobile Association (GSMA) Mobile Connectivity Index (MCI) 2023 report, Ghana is ranked 4th in Africa with a score of 51.4% depicting significant progress in connectivity over the past five years.

In the same report, Ghana had a score of 86.69% in Online Security (a key dimension of the index) consistent with the country's score on the ITU's Global Cybersecurity Index (GCI).

Ghana's internet penetration rate i.e., internet users in 2023 stands at 23.05 million representing 68.2% of the total population. Out of this, 6.6 million (19.5%) are active social media users contributing to the country's 13th rank on the list of countries that spend considerable time on the internet.

Dr Antwi-Boasiako noted that Ghana's effort at ensuring a culture of digital safety was borne out of the country's cyberculture and societal dimension derived from the cybersecurity Capacity Maturity Model (CMM) assessment commissioned by the Ministry of Communications and Digitalisation in January 2018.

The assessment was conducted by the Global Cyber Security Capacity Centre (GCSCC) of the University of Oxford in collaboration with the World Bank.
Key among the critical issues captured by the assessment included the lack of cybersecurity consciousness and awareness among the Ghanaian public.

Also captured were inadequate security measures for government e-services with knowledge gaps in fundamental cybersecurity concepts.

Following these shortfalls, the CSA was seeking to leverage the NCSAM 2023 to address the concerns raised in the assessment hence the theme, 'Promoting a Culture of Digital Safety'.

This year's theme highlights the importance of cultivating a collective mindset and behaviour that values and promotes responsible online practices, cybersecurity awareness, and the protection of personal information.

"We expect the media launch to set in motion a month-long national cybersecurity awareness creation that will assemble public and private sector players, cybersecurity professionals, the academia, and representatives from civil society organisations, in preparation for the NCSAM as we seek to encourage every Ghanaian to stay digitally alert," Dr Antwi-Boasiako added.

He called for collaborative efforts to harmonise the processes of public procurement in the public service to secure a judicious, economic, and efficient use of state resources and provide a streamlined mechanism for guaranteeing that cybersecurity service providers, establishments and professionals in the country execute their duties in accordance with approved international standards.

Data from October 2019 – July 2023) showed top reported incidents in online fraud 45% (Online Shopping Fraud, Job Recruitment Fraud, Advance Fee Fraud, Romance Scam, Investment Fraud among others.). Online Blackmail (13%), unauthorised Access 10% (Account Takeover, Phishing, etc), cyber bullying 9% (Fake Loan Apps)
Online Impersonation/Identity theft (8%)

The high numbers (37,559 (91%) for the direct advisories can be attributed to the fact that the Point of Contact (PoC) portal has provided citizens with an avenue where they are able to fact check information, they come across online and perform due diligence before taking certain actions/decisions online.

Therefore, citizens from diverse backgrounds who are about to make various commitments online, including financial commitments to buy a product/patronise a paid service/ do an invest ranging from as low as GHC50 to thousands of Cedis, providing personal identifiable information that could be used to perform identity theft/impersonations, visiting/downloading malicious websites and contents that could disrupt business operations, reach the Cyber Security Authority through the PoC and are given the needed guidance to prevent becoming potential victims of cybercrime.
Source: GNA