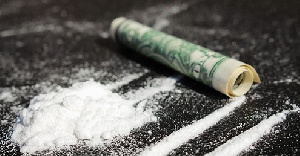 The Narcotics Control Board (NACOB) has said the recent media report suggesting Ghana is ranked 14th worldwide in consumption of cocaine is false and unfounded.
According to the Executive Secretary of NACOB, Francis Torkono, the report failed to mention the periods those statistics were generated hence questioned its credibility.

His comment follows statistics released by the UN Office on Drugs and Crime (UNODC) which indicated that Ghana is ranked 14th out of 115 countries in terms of the consumption of cocaine.

Mr Torkonoo speaking at a two-day programme aimed at equipping journalists with the requisite skills to give accurate and factual information on drug related issues said NACOB is yet to conduct a research on the level of consumption of cocaine across the country.
He said: "The [report] that I saw was by Telegrah, a UK media house, that talked of Ghana being ranked 14th and Columbia that we all know is synonymous to cocaine at number 34. But no mention is made of the year that this statistics was being picked from.

"Every country is obliged to send a report at the end of each year through a questionnaire that is the INCB and then the UNODC sent out to countries – this is the annual reporting questionnaire. Based on the data you put on that, is what they use to calculate the statistics.

"You can call it the league table that the person provided and found Ghana at 14 and Columbia at 34. It is possible that there are mixed years. Whiles reporting 1998 for Ghana, he is reporting 2006 for Columbia or 2017 or 2016 for Columbia. The whole data was mixed up. Ghana's consumption rate of cocaine we don't know ourselves because we haven't calculated it, we haven't done any research to come out with anything to send to the UNODC that this is the rate that we have for them to report."