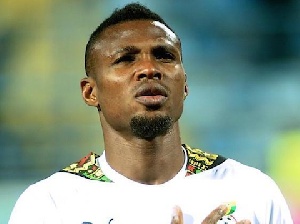 Ghana defender Jerry Akaminko has rejected claims compatriot Rashid Sumaila masterminded the horrific injury which nearly curtailed his career three-years ago.
The 29-year-old, who plays for Turkish side Eski?ehirspor, is staging a return to the team after enduring a hellish and nightmarish time in the treatment room.

Akaminko's career was left on the edge after he suffered a career-threatening injury during a high-profile pre-World Cup friendly against the Netherlands.

Self-acclaimed witch-doctor Malam Isaka Salia claimed Sumaila, who is being targeted by Scottish side Rangers, perpetuated the dastardly act against the fellow defender - an accusation the 24-year-old rejected strenuously.

But the Turkey-based defender says he does not believe his compatriot was behind his predicament.
'I am happy to come back to the team. It has not been easy but God knows and won't apportion blame that someone was behind my injury," he told Kumasi-based Nhyira FM

''I don't believe Rashid was, no it is never true."

The two players could form a partnership ahead of the 2019 Africa Cup of Nations qualifier against Ethiopia on Sunday.