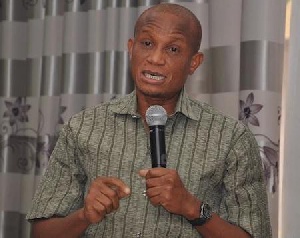 Tue, 12 Jan 2016 Source: peacefmonline
Ghana Minister for Foreign Affairs, Hanna Serwaa Tetteh, has been described as either uninformed about radical Islam ideologies or being mischievous by claiming that the two former Guantanamo Bay detainees sent to Ghana pose no security threat to the country.
Sheikh Mustapha Abdul Hamid, Senior Aide to 2016 Flagbearer of the opposition New Patriotic Party (NPP), Nana Addo Danquah Akufo-Addo, strongly believes if the minister is neither of the above descriptions then she could be pandering to the whims of the United States government.

Dismissing assertions by the minister that the two pose no security threat to Ghana based on US government's assurances that they are harmless, Sheikh Hamid stressed Ghanaians ought to be alarmed.

Ghanaians were stunned last week when government announced that the country would for the next two years host the ex-terrorists.

The decision has been met with a huge public outcry.

The two inmates are the first of a group of 17 detainees to be transferred out of Guantanamo Bay that includes "multiple bad guys" and "Al Qaeda followers," according to international news sources.

Both detainees spent close to 14 years at Guantanamo.
But according to a statement signed by Hannah Tetteh, the assistance being offered the ex-inmates was at the request of the US government.

"At the request of the US Government, we have also agreed to accept two detainees of Yemeni origin who were detained in Guantanamo but who have been cleared of any involvement in any terrorist activities and are being released," it said.

However, the US government has been wrong before on cleared ex-terrorists they believed, have been weaned off their fundamentalist ideologies.

However, speaking on the Citi Breakfast Show Monday, Nana Addo's aide said the country's action of providing temporary residence to the two Yemenis cannot be quantified as a gracious act of succour to distressed persons whose home country is currently not conducive for their return.

To him, it's possible the Awutu-Senya West Member of Parliament Hon Hanna Tetteh could probably be acquiescing to the dictates of the United States government

Daring the Minister to show proof of how the US was able to disorient the ex-detainees of their radical ideologies, he stated; "She is either genuinely ignorant or she is being mischievous, or she is just pandering to the whims of the Americans….Which disorientation school did they send them to? Because if you say they are no longer dangerous what it means is that they have been weaned out of this fundamentalist ideologies…did they have a process where there had Islamic scholars and leaders were giving them better orientation on what the true Islamic ideology is? We don't have such evidence."
Sheikh Hamid, who is a lecturer at the Department of Religion and Human Values of the University of Cape Coast, noted that central to the Jihadi ideology is the assertion that "a friend of your enemy is also your enemy", hence, though Ghana, may have received them out of generosity, in the mind of a jihadist, Ghana becomes a legitimate target for attacks.

He pointed out that contrary to what the government wants the public to believe, the radical ideologies which led to the arrest and subsequent incarceration of the two Yemeni nationals may have been accentuated in the time they spent at the Guantanamo Bay detention centre.

"They may not have anything against Ghana as a nation, but they certainly do have something against America, especially so because America has confessed that it has no evidence for which it incarcerated them for 14 years. Source of Jihadist ideology is that the friend of your enemy is your enemy.

"That one is a non-negotiable aspect of the ideology that cuts across Al-Qaeda, Taliban, Al Shabaab and Boko Haram. So we have shown by this act, which we believe to be an act of generosity and compassion but in their mind it is an act of complicity in the sense that we have shown ourselves to be an ally to America," he explained.
Source: peacefmonline