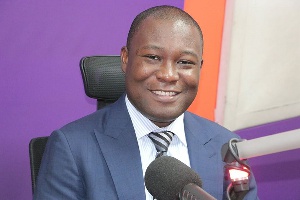 The Chief Executive Officer (CEO) of Vokacom, Nana Osei Afrifa has stated that Ghana's new digital addressing system which has generated controversy is better than that of the United Kingdom.
Vokacom which has been in existence for 14 years is the company behind the Ghana Post GPS software.

According to the CEO, some properties in parts of UK do not have post codes saying the UK keeps creating new post codes but Ghana will never be in that situation.

Nana Afrifa indicated that UK has an analogue addressing system as compared to Ghana which has a digital system.

He said it took him six months for his post code to be registered on the national system of Swindon in UK and that people couldn't deliver items to him.

'If at that time, the UK had had this digital address system that Ghana has right now, the moment they constructed those new buildings they will have post codes, and immediately people will have delivery services. The Vice President Dr Mahamudu Bawumia was accurate when he said some developed countries do not have the addressing system we have. I just gave you my experience, so at least you know what we have is better than what they have in UK. Every square inch of Ghana has been digitilised, post coded and addressed,' he explained.
Speaking on Ultimate Breakfast Show hosted by Lantam Papanko, the CEO of Vokacom said the UK yearly deletes old post codes and creates new ones for new settlements.

He described as unique Ghana's addressing system which does not deletes old post codes adding that post codes are created permanently.

'…It is easy to idolised what is happening in the Western countries, but they have problems. We have seen the problems these Western countries are faced with and we are building on top of the problems, that is the beauty of what we are doing,' he asserted.

The Vokacom CEO stated that the software is to integrate into every system in the World in the next five years where people, properties could easily be located.


He encouraged Ghanainas to exercise restraints as they work around the clock to digitilised Ghana's address system.

A section of Ghanaians especially the opposition National Democratic Congress (NDC) have argued that Ghana is not getting value for the 2.3 million dollars GhanaPost GPS system.

They have lashed out at the Akufo-Addo's government for wasting the country's monies on the GPS system which runs freely on phones with Google Apps.

Vokacom has been working with MTN, Vodafone and other companies.