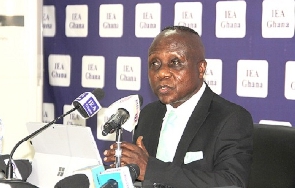 Sat, 18 Mar 2023 Source: GNA
The Institute of Economic Affairs (IEA), a public policy think-tank, has described Ghana's current debt, which is being restructured, as "disheartening and frustrating", to businesses and individuals. 
As a result, the Institute has advised that the Government take action to swiftly conclude the debt restructuring process to secure the US$3 billion loan-support programme with the International Monetary Fund (IMF). 

The Government is optimistic about Ghana reaching the IMF deal by the close of March 2023, but IEA said it was worried about the country banking its hope on the IMF loan-support programme to achieve debt sustainability in five years. 

"Honestly, it is disheartening to some of us that our debt even got to this level in the first place, and it is also frustrating that it will take a further five years before we can bring it down to the current levels of our peers," said, Dr John Kwakye, Director of Research at IEA.  

He added that: "We risk the usual post-IMF programme fiscal relapse, especially as 2024 is just around the corner and given our history of election-driven fiscal profligacy and its destabilising consequences," Dr Kwakye said. 

He said this during a reflection on the State of the Nation Address (SONA), which was delivered by President Nana Addo Dankwa Akufo-Addo last week.

He praised the Government for the economic growth, inflation and exchange rate prior to the COVID-19 pandemic and the Russia-Ukraine war, but said underlying weaknesses had contributed to the current economic crisis, which had made the Government seek for an IMF assistance. 
Ghana last year, reached a Staff-Level Agreement (SLA) for the loan-support programme, which is aimed at restoring macroeconomic stability and debt sustainability while protecting the vulnerable, preserving financial stability. 

It is, however, subject to an assurance of debt sustainability from both domestic and foreign creditors, as the Government race against time to reduce the debt-to- Gross Domestic Product (GDP), from 103 per cent to 55 per cent. 

Dr Kwakye advised the government to take note of the beneficial lessons from its West African neighbor, Cote D'Ivoire, on its sustainability efforts, which had led to a debt to GDP ratio of 56 per cent – lower than the Sub-Saharan Africa average of 55.5 per cent. 

The lessons included Cote D'Ivoire's strict convergence criteria of three per cent for its fiscal deficit, restricted lending to Government, and subjecting itself to the West African Economic and Monetary Union (WAEMU) debt-to-GDP ceiling of 60 per cent. 

In the case of Ghana, there is a ceiling of five per cent for the fiscal deficit, subject to variation by the Minister of Finance when it deems it necessary, and no ceiling on debt-to-GDP, in addition to a five per cent lending by the Bank of Ghana to the Government on previous year's revenue. 

"It is notable that despite the often-proffered view that Ghana may sacrifice growth if we target much lower rates of inflation, Cote D'Ivoire has consistently achieved simultaneous low inflation and growth. We can learn from them," Dr Kwakye said. 
On the IMF loan-support programme, Dr Kwakye said, it would bring some temporary relief on terms of the direct financing and catalyse the flow of funds from other donors, as the capital market was currently closed to Ghana. 

"To make a difference, it is important that we take our economic destiny into our own hands – and not mortgage it to Washington," he said. 

He encouraged the country to develop a culture of fiscal and financial discipline and pursue transformational policies capable of changing the structure of the economy into an export-oriented one to produce sufficient import substitutes. 

"We need to leverage our internal resources and capacities to develop our economy and permanently position it beyond aid and debt. These are not things that are beyond our capabilities and reach," the IEA Director of Research, said. 
Source: GNA