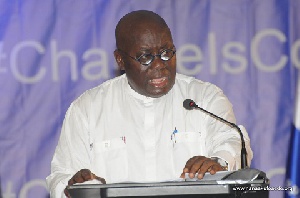 The flag bearer of the opposition New Patriotic Party (NPP) Nana Addo Dankwa Akufo-Addo has vowed to make life comfortable for the ordinary Ghanaian if he wins the 2016 Elections.
In a feature in the Financial Times of London titled, "Ghana's opposition leader taps into the thirst for change," Nana Addo is quoted on a campaign tour in Saboba, northern region as saying that this "is not a poor country… [my government will look] after Ghana and not after our own pockets".

"Funds can be used better and we will put fiscal discipline at the heart of economic policy," Nana Akufo-Addo also reportedly told the Financial Times.

Besides his promise of good fiscal management of the nation's resources, Nana Addo also pledged factories, dams and large cash transfers to every constituency; couched in his campaign mantra as "1 factory, 1 district".

But the ruling NDC's deputy general secretary Koku Anyidoho, is also quoted in the same report as rebutting Nana Addo's promises, claiming they are unrealistic. "They make their promises but do not give any practical steps by which they intend to implement them," the NDC's deputy general secretary said.

Nana lashed out at incumbent NDC that, last year it was forced to turn to the International Monetary Fund (IMF) for almost-$1bn bailout, resulting in over dependence on the volatile commodity prices; when the Mahama-led NDC had inherited Ghana as a star performer: one of Africa's most stable democracies and among its fastest growing economies. A growth which emanated from offshore oil production in 2010 and high prices for exports of gold and cocoa.

Consequently, the popular belief that Ghana's booming economy at the time will boost the fortunes of the nation, was unrealized as economic growth sunk from 8 per cent in 2012 to 4 per cent last year, while debt service costs - the second biggest item in the budget after public sector wages soared.
According to the FT, "when Ghanaians vote in parliamentary and presidential polls in December, they will be doing so as their nation grapples with its worst economic slowdown in more than two decades."

The FT report touched on the issue unemployment in Ghana, which appears to be one of the main issues that will determine how young people vote. Emmanuel Ankrah, a 23-year-old student in Accra, decried the hardship he faces on a daily stating emphatically that "Our political parties make a lot of promises to work but then they come [to power] and it's very difficult for them to implement."

Emmanuel aspires to be a banker but fears he will, like many of his friends, could join the swollen ranks of the unemployed. "It's very difficult to get a job after school unless you have connections," he lamented.

Aboubacar, 25, who works at his father's traditional medicine shop in Tamale also added that he wanted the government to do a better job "making resources available to the people," particularly because "business is bad and people are not buying like before".

"Everybody here wants change and I will vote for it too in December," he says.

Now, the one question which remains key ahead of the D-Day is: will opposition NPP be able to tap into the thirst for change to triumph in December polls?