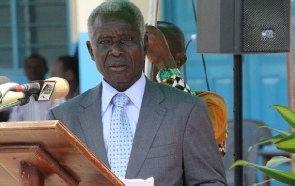 Former Chief of Defence Staff of the Ghana Armed Forces, Brigadier Joseph Nunoo-Mensah has said the aim of the June 4 uprising has been defeated as the country's misfortunes have risen ten-fold.
Brigadier Nunoo-Mensah, who was part of the Provisional National Defence Council (PNDC) government was speaking on the Executive Breakfast Show (EBS) on Class91.3FM.

Speaking on the significance of June 4 and its relevance in today's Ghana, Brigadier Nunoo Mensah told show host Benjamin Akakpo that: "The aim of June 4 was to put an end to physical corruption, incompetence, mismanagement, all kinds of ills of society. The aim stated by young officers led by former President Rawlings was that people had stolen money, misconducted themselves and got away with murder".

"The whole idea of June 4 was to deal with those people. Unfortunately, those who were shot at Teshie Range were not the criminals, they just bore brunt of the anger of the young officers. The harm was done not within the higher recognition military but within the civilians, commissioners and so on."

He noted that the 'sins' that sparked the June 4 revolution are currently being repeated in the country.

"But the June 4 came to really, once and for all, clean this mess and: 'Let's start afresh'. Unfortunately, it achieved nothing...That is why 31 December 1981, President Rawlings again came to power by removing President Hilla Limann from power."
"The ills of Ghana at that time, today, they're ten-fold. They're more than ten-fold. So, June 4 achieved nothing because the sins of June 4 or those before are being repeated right now as I'm speaking with you."

The 41st-anniversary of the June 4, 1979 uprising was marked in Accra on Thursday.