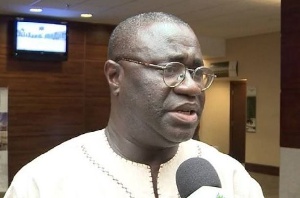 Security Analyst, Dr. Kwesi Aning says Ghana's internal security has deteriorated in the last few months.
Dr. Aning who is also the Director of the Faculty of Academic Affairs & Research at the Kofi Annan International Peacekeeping Training Centre, said the Ghana Police Service has faced a lot of challenges since the President delivered the State of the Nation Address in 2017.

"Since the delivery of that address and taking into consideration what has happened afterwards, the Police Service has rather faced a lot of challenges," Dr Annig said on the Morning Starr Thursday.

Dr. Aning stated that equipping the Police Service will help them deliver better and properly protect the citizenry.

"In the last couple of days, we heard of the 100 vehicles for the Ghana Police Service. What was the assessment made before the vehicles were given to the service? Was the Police service consulted?
"If you look at the manholes on our roads, any skilled armed robber on a motorbike can get away whilst the police chase them in their vehicles…as the Police Service gets support, the internal mechanisms will have to be checked…in terms of security, the case today is worse than we saw in 2017."

Dr. Aning also hailed the work done by the National Security Minister Albert Kan Dapaah describing him as the "bullock that protects us against destruction".

He added that "I think Mr. Kan Dapaah has been able to get the work done to ensure we are secured."