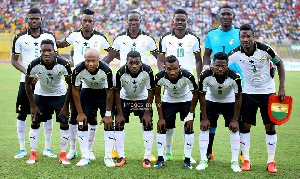 Ghana's senior national team slipped down one spot on the latest Coca Cola FIFA World Ranking to 52nd place after a month of inactivity in January.
The Black Stars over the period of evaluation (January) were not involved in any international games and like most of their African counterparts slipped down the ranking. Of the top 100 ranked nations, only Zambia inched up to 82nd place from 83rd place.

They are now the sixth best team on the African continent.

The top five teams in Africa are Senegal (1st), Tunisia (2nd), Morocco (3rd), Nigeria (4th) and Congo Dr (5th).

Newly crowned Asian champions Qatar have climbed to 55th in the latest FIFA/Coca-Cola World Ranking, gaining 38 places – and reaching their best position since 1993 – on the back of their stunning success in UAE.

The AFC Asian Cup has been responsible almost all of the notable changes in this, the first Ranking of 2019, with the scarcity of games in other confederations leaving the top 20 unchanged – and Belgium still in pole position.
Further down the table, Qatar aren't the only team to have ascended in spectacular style. Fellow finalists Japan (27th, up 23) have also soared up the order, while Korea Republic (38th, up 15), United Arab Emirates (67th, up 12) and Jordan (97th, up 12) all registered double-digit gains. There were also significant upwards moves by the likes of Iraq (80th, up 8), IR Iran (22nd, up 7) and Uzbekistan (89th, up 6).

Another consequence of these changes is that Asia has boosted its numbers in the Ranking's top 50. The AFC is now represented by four teams, up one on the last edition, and now stands level with Africa, whose numbers have been depleted by Congo DR (51st, down 2) dropping out.

There was no change at the top of the FIFA Ranking with Belgium, France and Brazil ranked first, second and third respectively.

The next FIFA/Coca-Cola World Ranking will be published on 4 April 2019.