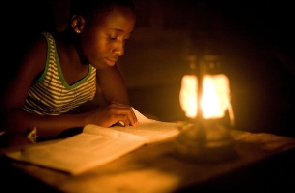 The Minister for Energy, Dr. Matthew Opoku Prempeh has disclosed that Ghana is going to be experiencing some systematic power outages in May this year.
According to him, these outages will be as a result of ongoing system upgrade and expansions works at the Kasoa and Pokuase Bulk Supply Points.

Addressing journalists at a forum in Accra, Dr Opoku Prempeh said the Energy Ministry along with the Ghana Grid Company Limited and the Electricity Company of Ghana were in discussions to implement a plan ahead of the imminent power outages.

"Just two days ago, I received a letter from MiDA [Millennium Development Authority] who are helping upgrade the Pokuase and Kasoa substations. They informed me that the progress of the substation is such that in the month of May, there will be systematic power outages, so we have invited both ECG and GRIDCo and in the light of that, let us sit and plan and communicate with the people who will be affected way before it happens," the minister said.

Meanwhile, the energy minister had earlier dismissed assertions that the country was on a return to an erratic power supply era known as 'dumsor'.

"We should all be truthful in our communication. In 2016, the [ NDC government] gave us periods when we were off and on. 2016, the government of the day told us it was a generation problem. This is not a generation problem. This is not about fuel, so how can it be dumsor? Dumsor is planned and a timetable is rolled out," Opoku Prempeh earlier stressed.

He further admonished citizens to bear with the stakeholders as they find workable means to solve the technical challenges in the power systems.
However, some parts of Accra and Winneba have already started to experience power outages as a result of technical challenges on transmission lines and network substations.

Dumsor era

For almost 3 years beginning 2015, Ghana experienced a persistent and irregular power outage.

This was caused by power supply shortages from transmission and distribution firms.

Ghana at the time had a power generation capacity of only 400-600 megawatts, a figure which was less than what the country needs and this resulted in a long-standing load shedding exercise across the country.