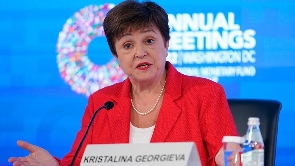 After numerous deliberations and negotiations with the International Monetary Fund (IMF) for a $3 billion bailout, Ghana is set to secure the aid from the Fund by close of May 2023.
This is according to a Graphic Business report citing sources familiar with the matter.

The new development, however is as a result of government's ability to take advantage of the goodwill of the Fund and key bilateral creditors to fast track the debt restructuring process.

Reports are that, the financial assurance from the bilateral creditors, which is the last hurdle for Ghana, is due later this month [April], to pave the way for the request to be submitted to the IMF Executive Board for consideration and approval in May this year.

"Once the request goes before the board, I am pretty sure it will not encounter any challenges and so a deal in early or mid-May is possible," one source said in Washington D.C., where global leaders on the economy have converged for the IMF/World Bank Spring Meetings.

This new revelation cements assurance from the Managing Director of the IMF, Kristalina Georgieva, who had earlier expressed optimism, that the Fund's Executive Board would soon grant final approval to Ghana's bailout request.
According to Georgieva, her optimism stemmed from the swelling goodwill that the country was getting from the international community, including its creditors.

She added that, her outfit was pushing the bilateral creditors to quickly provide the financial assurance needed for the board to approve the deal.

"To tell you the truth, I am optimistic that we are going to move swiftly and so stay positive," she said.

Ghana secured staff-level agreement (SLA) for the $3 billion request in December 2022 but efforts to move past the final lap have dragged as bilateral creditors haggle over the terms for an external debt restructuring exercise.

Watch the latest edition of BizTech and Biz Headlines below:






EAN/MA